The Richards Group WinterGreen Festival for SickKids

Holiday Market: November 23 to December 23
Winter Festival: November 23 to March 31
Join us in transforming the beach into a Winter Wonderland!
Woodbine Beach - 1675 Lake Shore Blvd East Toronto
Holiday Market Operating Hours
Monday to Thursday 3:00 pm - 9:00 pm
Friday 3:00 pm - 10:00 pm
Saturday 11:00 am - 10:00 pm
Sunday 11:00 am- 9:00 pm
Magical Lighting and décor displays create an incredible traditional and romantic setting for visitors to enjoy. The beach is transformed into a magical winter wonderland with a paradise of lights and colours, festive sounds and delicious culinary aromas.
- Selfies with Santa at Santa's House
- Heated Outdoor Food & Beverage Lounge
- Holiday Market - Artisianal Gifts & Culinary Treats
- Gingerbread Giant House & Festival Light Displays
- Live Entertainment & Activities For The Whole Family
- Traditional Beaches Lions Christmas Tree Sale
Heatwave Events for SickKids
World's Largest Beach Volleyball Event
Guinness World Record Holder
Toronto, Peel, Halton, York, Durham, Waterloo, Hamilton, Burlington and Niagara


These children at SickKids who are fighting childhood cancer are true heroes and inspire all of us to make a difference. Their inspiration is clearly seen here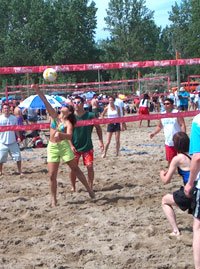 through the generous support at these incredible events. They inspire corporations, players, volunteers, donors and sponsors to come together to raise funds to end childhood cancer. For the past 23 years we have dedicated these Heatwave and Icewave events to these courageous children at SickKids. Together, through fundraising we continue to give a remarkable gift to our future generations. This could not be made possible without generosity and support from participants like you. Join us today by registering your team and start fundraising! The future of healthier children starts at SickKids. Help SickKids change their world so they can change ours. Together We Will!